3/4" Thinwall PVC Pipe, Furniture Grade - 5 ft.
FORMUFIT 3/4" Size Furniture Grade Thinwall PVC Pipe is the highest quality, top of the line, Structural Grade PVC pipe available. This pipe is ideal for projects that require strength, but a thinner pipe wall, such as in telescopic applications. Made from 100% solid-wall vinyl, our Furniture Grade PVC Pipe is impact-resistant and has a high-gloss exterior shine and is completely free of manufacturer markings.
Available in 5-foot (60") lengths.  Please note that due to the cut-to-order nature of our pipe, PVC pipe sales are final and are not eligible for return or refund.
Product Features
Colors and sizes that are grayed out are temporarily out of stock.
  This pipe is not compatible with any type of internal-fit connector and will only work with external fittings.
3/4" PVC pipe has an outside diameter of 1-1/16" (1.050").
Completely clean, no manufacturer markings or printing
Monolithic pipe - color is the same inside and out
5x stronger and more durable than thinwall plumbing-grade PVC
Made from premium Furniture Grade PVC
Smooth and glossy surface finish
Impact proof and UV stabilized for weatherability and outdoor color retention
This product is not compatible with 3/4" PVC Size internal-fit caps, couplings or fittings and will only work with external-fit products.
---
What size is this pipe?
This product has an outside diameter of 1.050" (1-1/16") and an inside diameter of approximately 0.920" (59/64") *. See our PVC 101 section for more info.

 Not compatible with CPVC or Copper Tube Size (CTS) fittings.

 * Inside diameters of PVC pipe will vary and are not guaranteed to be consistent.
Product Specifications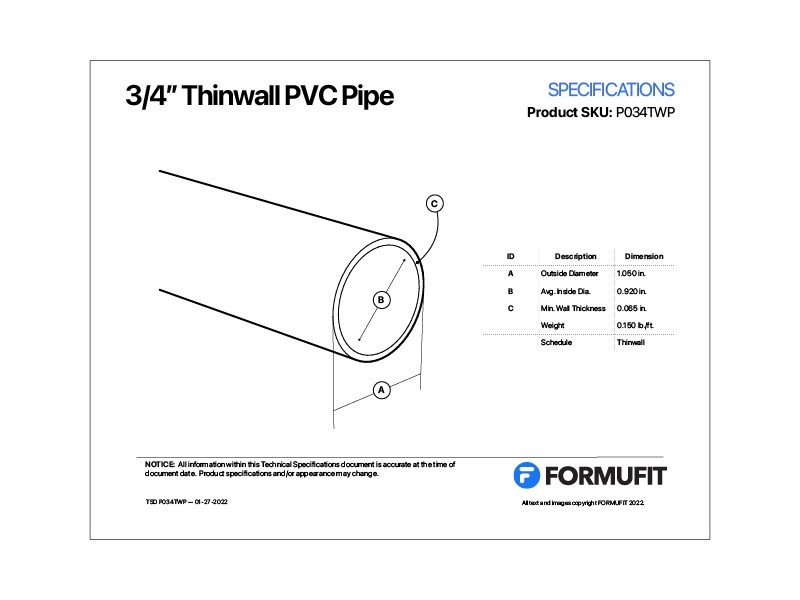 Download the Technical Specifications document for this product to view physical dimensions and additional details.
Download PDF
Product Instructions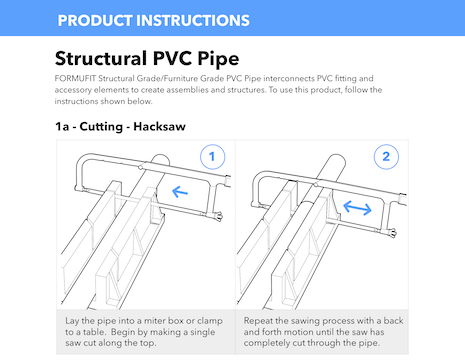 View the product instructions, which include basic visual assembly, securing options and product use.
Download PDF