1/2" 5-Way Cross PVC Fitting - Furniture Grade
The FORMUFIT 1/2 in. 5-Way PVC Cross lets you easily connect 1/2 in. Size PVC pipe at five points on multiple planes and is essential when building base or stand applications for display units and tables. It offers four sockets in a cross configuration, with a fifth socket to allow a perpendicular connection for added intricacy when building PVC projects.
Product Features
Colors and sizes that are grayed out are temporarily out of stock.
Fits externally over 1/2" Size PVC pipe, which has an outside diameter of 13/16" (0.840").
5-Way PVC Side Outlet Crosses are integrated with impact modifiers that give them five times the durable capability than plumbing-grade alternatives .
Injection molded as a single unit for a lifetime of durability.
Infused with titanium-dioxide, a food-grade additive that blocks UV-degradation.
Connect externally onto PVC pipe with chamfered ends that smoothly diminish down to the pipe surface so that fitting edges won't snag pet hair, clothing or materials.
Can be connected permanently with PVC cement, or can be used again, by securing with screws between pipe and fitting, for temporary connections.
Maintain a a professional, glossy, smooth appearance. There are no manufacturer barcodes, printing or markings, so your projects look professional and manufactured.
Sockets extend 30% deeper than plumbing-grade fittings to allow further insertion of a PVC pipe into the fitting which creates greater structural stability.
Available in multiple colors in the 1/2 in. PVC Size. Add character and customize your project, or make it unique with your favorite college or team colors.
---
What pipe will this fit?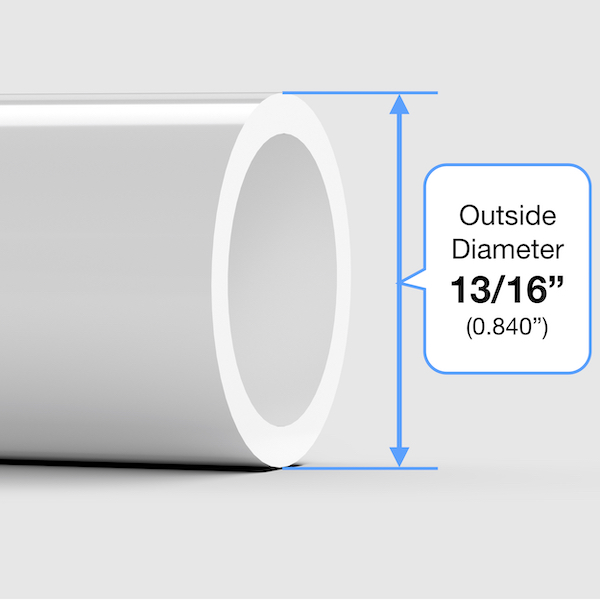 This product will fit 1/2" Size PVC pipe, which has an outside diameter of 0.840" (13/16") and an inside diameter of approximately 1/2". See our PVC 101 section for more info.

 Not compatible with CPVC or Copper Tube Size (CTS) pipe.
Product Specifications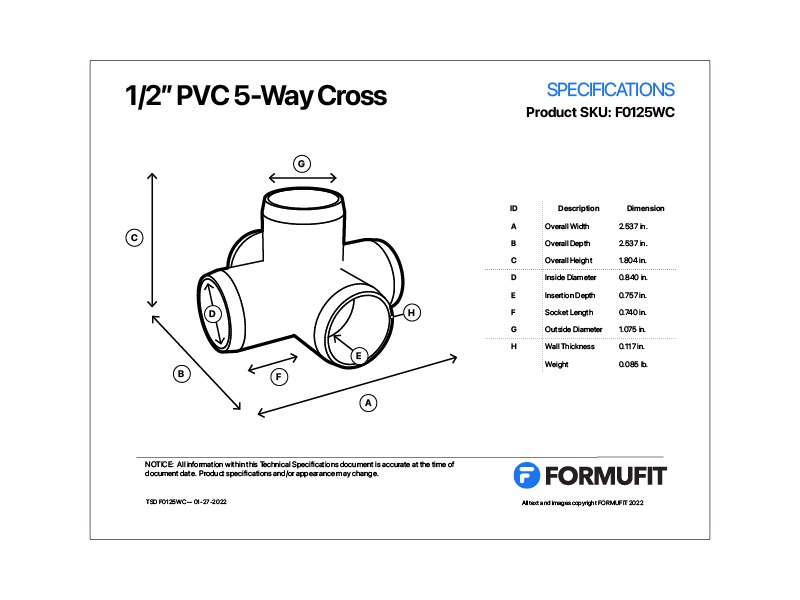 Download the Technical Specifications document for this product to view physical dimensions and additional details.
Download PDF
Product Instructions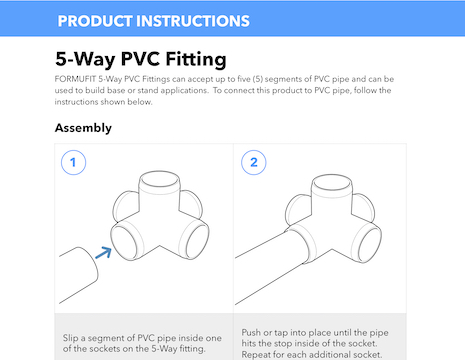 View the product instructions, which include basic visual assembly, securing options and product use.
Download PDF