Category:
Table Screw Caps
0 products
Make handrails, tables, and more with PVC Table Caps that connect to PVC pipe.
PVC Table Screw Caps connect the ends of PVC pipe to flat-surface materials to make handrails, tables, and more. Use fasteners, such as screws or nails, to connect the table cap to drywall, wood, or even concrete; then insert a PVC pipe into the Table Cap and secure it with PVC cement for a solid connection. These can also act as a floor flange when attaching PVC pipe to flooring or steps.
Available Sizes
FORMUFIT PVC Table Caps are available to buy online in the 3/4", 1", 1-1/4", 1-1/2" and 2" PVC Sizes and fit standard Schedule 40 PVC size pipe. For sizing information, please see our PVC 101 page.
Product Manual
You can view the generalized product instructions for this category by clicking the Download PDF button. Individual instructions are on each product detail page.
Download PDF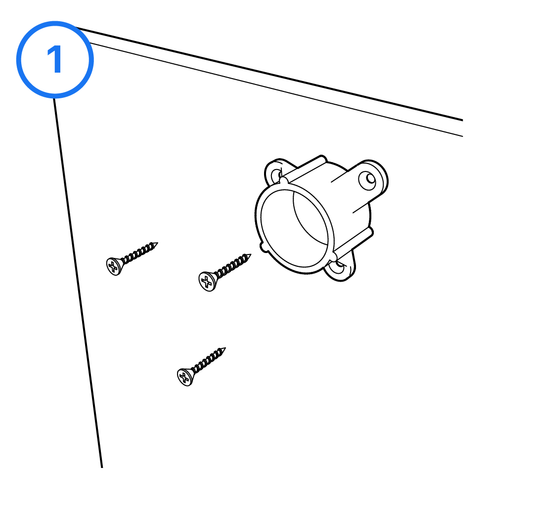 Additional Information
Furniture Grade PVC Table Caps
️Basic Description
FORMUFIT Table Screw Caps, also known as PVC Caps with Tabs, are external mounting fixtures that fit over the end of a Size PVC pipe and include holes to attach the cap with fasteners and screws or nails to a host of flush mount surface materials. Table Cap PVC furniture caps have three equidistant holes to connect surfaces to pipe, similar to a standard plumbing-grade flange. In addition, each tab has a tapered hole with a countersunk bevel to accept #10 screws or standard drywall screws to create a secure and flush fastener connection within each hole. Table cap fittings feature a deep socket for securing pipe connections and a flat end with three tabs for screw mounting and anchoring. Table Caps are not pass-through caps and will seal the end of the PVC pipe the same as any standard cap. PVC cement is recommended for a secure bond between tube and table cap.
Engineered Materials
FORMUFIT Furniture Grade PVC table caps have improved impact and shatter resistance versus standard PVC. Additionally, they have superior ultraviolet (UV) resistance to withstand yellowing and deterioration from sunlight and regular weather exposure. Table Cap PVC furniture fittings feature a high-gloss surface finish that is smooth, glossy, and free of markings or embossments for a professional, completed look.
Application
PVC Table Caps are typically used to attach tabletops, pipe to floors, plywood, or any flat surface that accepts fasteners directly to your PVC projects. You can also use PVC Table Caps to connect and bridge your Furniture Grade PVC pipe projects to other structures or materials such as greenhouse frames and non-PVC bases.
Fitment and Securing
Table Caps fit over Schedule 40, 80 and Thinwall PVC pipe as they are an external-fit connection. They have been designed to fit over other pipes or fittings of the same size. PVC Table Caps can be connected to PVC pipe by press-to-fit; however, due to tolerances and load, it is highly recommended that clear PVC solvent (cement) be used to create a fusion weld for permanent connection.