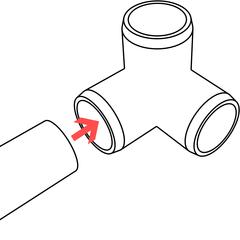 Product Instructions
For information on how to connect, install and secure FORMUFIT 3-Way PVC Elbows, please see the Product Instructions page.
Product Instructions
---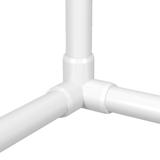 FORMUFIT Furniture PVC Corner 3-Way Fittings give you the ease of true three-way PVC pipe connections, eliminating the need for multiple fittings, piping and time. Connect three lengths of PVC pipe to a single fitting, all at 90-degree angles on separate axes to create cubes and box edges.
PVC 3-Way furniture fittings are often used in show displays and kiosks, product displays, outdoor tents, covers, dog beds, carts and canopies as well as other temporary structures that need to be simple to install and break down for storage when not in use. 3-Way Elbow furniture PVC corners provide a durable, long lasting and good looking solution for dog beds, carts and other structures, due to their engineered material and product design. Schedule 40 PVC 3-Way Elbows are ideal for building projects that require easy assembly, as they create a perfect 90-degree corner in PVC structural framework projects.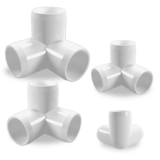 3-Way Elbows are made from durable and UV resistant Furniture Grade PVC.  Furniture Grade PVC is a corrosion-resistant material and can bear temperatures of up to 140 degrees Fahrenheit. Only Furniture Grade PVC, an engineered plastic,  resists damage from sun and outdoor elements, which makes it ideal for project and construction projects.

3-Way Side Outlet Elbows are available in a variety of pipe sizes and diameters ideal for small construction projects, ranging from 1/2 inch to 2 inches. All PVC 3-Way elbows are slip-style, with a smooth socket interior, so pipes slide into place easily and are compatible with Schedule 40, Schedule 80 or Schedule 120.  Use PVC cement to create a completely, fusion-welded, solid structure, or view our PVC Assembly Guide to view other methods of connecting PVC pipe and fitting. 
Whatever the application, if your project calls for a square corner with PVC pipe, 3-Way Elbows are the best method to achieve them.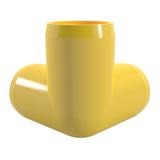 PVC is normally used for drain, waste and ventilation (DWV) such as plumbing, however it can also be used to construct many PVC projects.  While PVC is one of the most affordable and inexpensive materials available at your local hardware store or home center, it can be very durable when coupled with FORMUFIT products. With it's durability, corrosion resistance and affordability, PVC is an ideal favorite for a wide range of applications and users.