1 in. Furniture Grade PVC Pipe
Actual Pipe Dimensions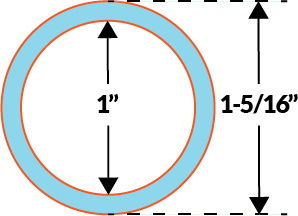 FORMUFIT 1 in. Size PVC pipe is a sturdy, yet easy to manage PVC pipe. 1" PVC pipe has a small amount of deflection (bending) with moderate weight. It is the ideal PVC size for handhold style items, such as fixtures that you can carry or move. Furniture Grade 1" PVC pipe has no manufacturer marks or embossments with a high gloss and clean surface.
All FORMUFIT 1 in. PVC pipe is Schedule 40, which has an outside diameter of 1-5/16" (1.315 in.) and an average inside diameter of 1.049 inches.  For additional information on PVC pipe dimensions, please see our PVC Pipe Dimensions page.
1 in. Furniture Grade PVC Pipe
The Premier PVC Pipe
FORMUFIT 1" Furniture Grade PVC pipe is dimensionally identical to standard 1" Schedule 40 plumbing-grade PVC pipe which is available from most home centers or hardware stores, but designed to last much longer and outperform standard plumbing pipe.
UV Resistance
All FORMUFIT PVC pipe is UV resistant. This keeps the pipe from becoming yellow, dull and brittle. The pipe is designed for outdoor and fluorescent lighting applications and a lifetime of use.
Increased Strength
1" Furniture PVC pipe is ideal for medium sized structural jobs, where strength is critical, but size should be easy to manage. 1" Furniture Grade PVC pipe has a far different appearance than its plumbing grade counterpart pipe, as it has a shiny, bright surface that is free of printing or manufacturer's markings. Excellent for crafts, project stands and science projects.
Dimensionally Equivalent
Furniture PVC pipe has the same outside and inside diameters as standard Schedule 40 PVC plumbing pipe. Since it uses the same sizing system as Schedule 40 PVC it is 100% compatible with standard and furniture grade PVC fittings. PVC uses a nominal sizing system, which means 'in name only' so all of our 1 in. Size PVC pipe fits with our 1 in. Size PVC fittings.
1" Schedule 40 PVC Pipe Dimensions
| | |
| --- | --- |
| PVC Size | 1" |
| Actual Outside Diameter | 1-5/16 (1.315") |
| Average* Inside Diameter | 1.049 |
| Average* Wall Thickness | 0.133 |
*Averages are provided as the extrusion process contains variations, and some wall thicknesses and inside diameters may not be consistent, from lot to lot.
See our PVC 101 Page for more information.
Available in Color & Clear
FORMUFIT offers our Furniture Pipe in eight (8) different colors in the 1" Size. Stocked colors include: White, Black, Red, Orange, Yellow, Green, Blue and Purple.  We also offer this size PVC pipe in a Clear UV option for clear projects and solutions.
 Important Information
Furniture Grade PVC pipe is not meant for plumbing or pressurized use. It is only manufactured for non-standard PVC uses, and are not NSF rated for commercial or residential plumbing applications.