Ball Ties - Bungee Stretch Cords, 5" Long (15-Pack)
Ball Ties are a high-quality stretch cord constructed from polyester and rubber composite material which is fastened to an ABS plastic ball. They work amazingly well to connect tarps, canvas and large covering materials over PVC pipe structures for roofs, shade or for signage and displays.
Ball Bungee Ties wrap around PVC pipe, through grommets, holes or loops in materials and then loop over the ball end to sustain materials under constant tension. The bungee cord allows for a forgiving, taut connection between the material and pipe structure.
Easily removable, Ball Ties are incredibly versatile and can be used for a bevy of around-the-home or office organization, such as bundling of tools, materials or other small items for a quick and easy organization solution.
Product Features
Colors and sizes that are grayed out are temporarily out of stock.
Will accommodate pipe with a diameter of 1-1/4" (1" PVC Size) To 2-3/8" (2" PVC Size)
The cord has a diameter of 3/16" and is constructed from polyester and rubber composites
Un-stretched length from end to end is 5-1/4", fully stretched length from end to end to approximately 11"
Perfect for many applications such as securing household and automotive items, canopies, tarps, shade cloth, sleeping bags, to PVC pipe.
Elasti-cord design provides constant tension and a firm hold
---
Product Specifications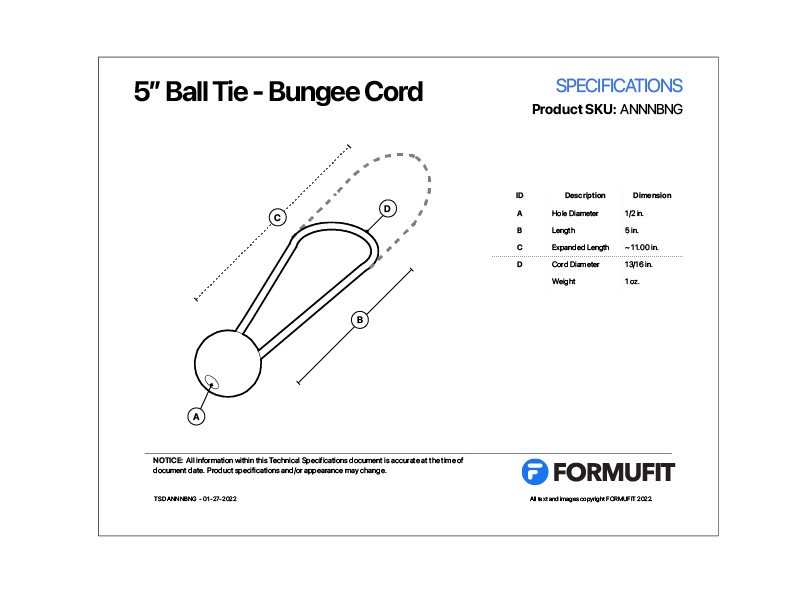 Download the Technical Specifications document for this product to view physical dimensions and additional details.
Download PDF