Category:
External PVC Coupling
66 products
Externally connect two segments of PVC pipe together to extend PVC pipe segments.      
 FORMUFIT External PVC Couplings connect two PVC pipe segments inline to extend pipe lengths. These straight couplings can also add breakdown points within your PVC pipe structure or assembly. External Couplings connect over PVC pipe, leaving a smooth, slightly-raised connection.
Available Sizes
FORMUFIT PVC External Couplers are available to buy online in the 1/2", 3/4", 1", 1-1/4", 1-1/2" and 2" PVC Sizes and fit standard Schedule 40 PVC size pipe. For sizing information, please see our PVC 101 page.
Product Manual
You can view the generalized product instructions for this category by clicking the Download PDF button. Individual instructions are on each product detail page.
Download PDF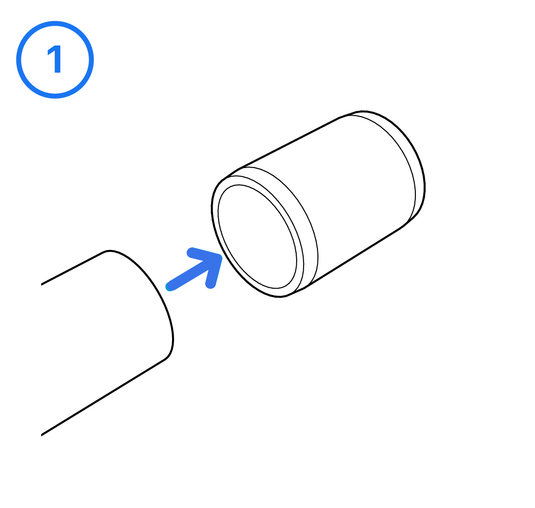 Additional Information
External PVC Coupler
Basic Description
A staple in any PVC project design where you need to connect two pieces of PVC pipe, External PVC Couplers are critical when you need to componentize your projects and break them into parts. These couplers let you turn shorter segments of PVC pipe into longer lengths.
Use
External couplers work simply by inserting a piece of PVC pipe into each end and cementing it in place once a dry fit has been checked. If you wish to make removable segments, you can cement one side into place, and the other side can be either pressed into place or screwed in place with fasteners.
Design
External Furniture Grade PVC pipe couplings have no markings, barcodes, or printing, so they have a beautiful, clean appearance. Their plain and straightforward design looks excellent on structural PVC projects and DIY pipe arts.
Engineered Materials
FORMUFIT External PVC Couplings are 100% furniture-grade material, meaning they are specifically developed to be impact-proof, ultraviolet (UV) resistant, and look great. While they are not designed for fluid transfer, PVC External Pipe Couplers are extremely strong and durable and will last decades and can be used directly in the sun, thanks to their UV resistant resin formulation.
Fitment and Securing
All FORMUFIT External Couplers will work with Schedule 40, 80, and Thinwall thicknesses of pipe. External Couplings can be assembled by the press-to-fit insertion method or can be permanently attached via PVC glue for a fusion weld.
Use left/right arrows to navigate the slideshow or swipe left/right if using a mobile device