4-Way PVC Fitting

FORMUFIT 4-Way Furniture Grade PVC fittings connect PVC pipe to make tiered structures. 4-Way Tee PVC fittings have a total of three ports on the same plane, with a fourth on top. These fittings make your PVC project building faster, and easier.
They act as support along edges in PVC applications where four PVC pipes should connect with a single pipe fitting. These fittings connect on both on the horizontal plane and vertical plane. 4-Way Tees fit over PVC pipe and taper down for a professional appearance.
4-Way PVC fittings are available to buy online in the 1/2" through 1-1/2" PVC Sizes and fit standard nominal pipe size piping. For sizing information, please see our PVC 101 page.
4-Way PVC Fitting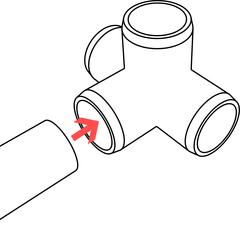 4-Way Product Instructions
For information on how to connect, install and secure FORMUFIT 4-Way Tees, please see the Product Instructions page.
Product Instructions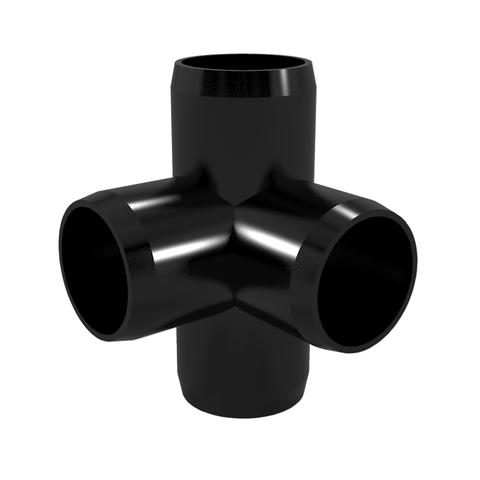 Designed for Building
FORMUFIT 4-Way PVC Furniture fittings are made from tough and durable structural grade PVC and have a beautiful glossy, shiny and bright color.  These 4-Way Side Outlet Tees are compatible with standard Schedule 40 and Schedule 80 size PVC pipe.
FORMUFIT Furniture Grade 4-Way PVC Tee Fittings let you build tiered, rows or levels of a structure using standard sized PVC pipe, without having to connect multiple fittings together. Connect four segments of PVC pipe to a single fitting, each at 90-degree angles on three different axes to build side structures, walls and supports..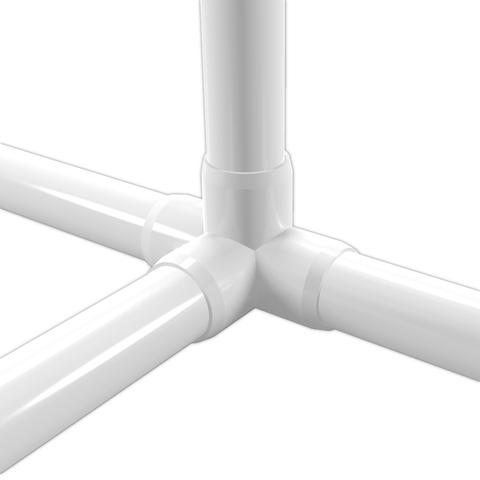 Multiple Uses, Many Functions
PVC 4-Way fittings are typically used in commercial and trade displays, PVC kiosks, product stands and displays, as well as tents, covers, carts and shade structures as well as other temporary structures that need to be simple to install and break down for storage when not in use. 4-Way PVC corners provide a durable, long lasting and good looking solution for dog beds, carts and other PVC constructions, due to their engineered plastics and easy-to-use design. Schedule 40 PVC 4-Way Tees work best to build projects that require easy assembly, as they create an ideal sidewall solution in PVC structural support projects.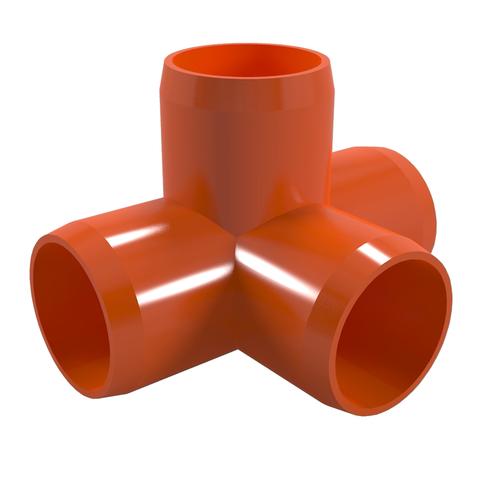 Durable & UV Resistant
3-Way Elbows are made from durable and UV resistant Furniture Grade PVC.  Furniture Grade PVC  is a corrosion-resistant , durable engineered plastic material that can bear far greater tolerances and structural strength that plumbing-grade PVC. Furniture Grade PVC is infused with UV inhibitors to mitigate the damage from sun and outdoor elements, allow PVC pipe structures to be built in 100% sunlight.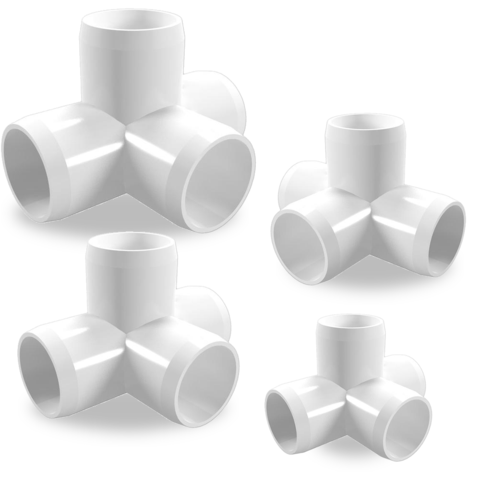 Many Sizes for your PVC Project
Our 4-Way PVC connector fittings are available in 1/2" through 1-1/2" Sizes, all with flow through capability, so no ports are blocked off against fluid or wiring/cabling passage.  All sockets are slip-style, which makes it easy to simply assemble PVC pipe structures.
4-Way LT fittings are compatible with Schedule 40, Schedule 80 or Schedule 120.  You can use PVC cement to create a completely, chemically welded, rigid structure. See our PVC Assembly Guide to learn about other methods of joining PVC pipe and fittings. 
Whatever the application, if your project calls for a square corner with PVC pipe, 3-Way Elbows are the best method to achieve them.
We apologize, however the 4-Way PVC fitting is not available in the 2" PVC Size.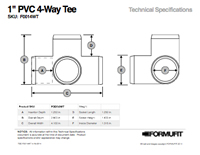 More 4-Way PVC Fitting Info
Please see the Product Specifications document for each PVC 4-Way Tee to determine insertion depth and dimensional data.