Category:
PVC Tee
57 products
Join two PVC segments in-line with a third in a perpendicular direction
FORMUFIT PVC Tee fittings make it easy to add flat three-way connections to any PVC structure. Standard PVC Tees offers two sockets in-line, with a third in a perpendicular direction. The PVC Tee Fitting has three sockets in a tee-shape configuration, all at 90-degree angles to the other. FORMUFIT Structural Grade PVC Tee fitting joins PVC pipe at three frame and structure interconnections points. PVC Tees are considered the gold standard in PVC fittings and make an excellent, robust and level PVC connection. Standard Tee PVC pipe fittings are essential when constructing PVC projects, such as shelving, greenhouse structures, and school projects.
Available Sizes
FORMUFIT PVC Tees are available to buy online in the 1/2", 3/4", 1", 1-1/4", 1-1/2" and 2" PVC Sizes and fit standard Schedule 40 PVC size pipe. For sizing information, please see our PVC 101 page.
Product Manual
You can view the generalized product instructions for this category by clicking the Download PDF button. Individual instructions are on each product detail page.
Download PDF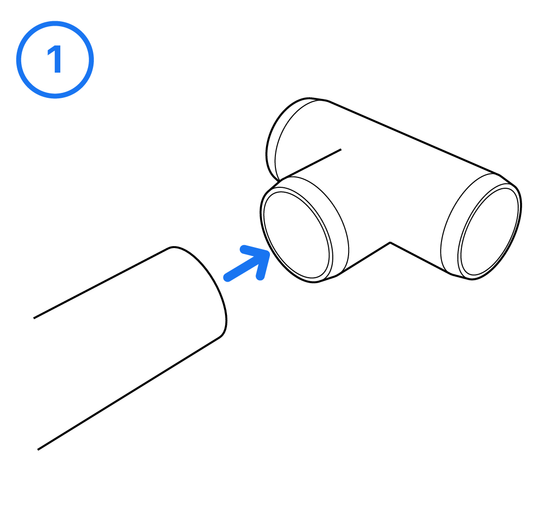 Additional Information
PVC Standard Tees - Additional Information
Basic Description
Furniture Grade PVC Tees are used to join three (3) lengths of PVC pipe at 90-degree right angles along the same horizontal plane. Standard PVC Tees are commonly designated as a "T" fitting due to the three socket ends forming a T-shape.
Use
Furniture tees are critical and can help in any project when you need to mount and build walls, scaffoldings, crossbars, and base supports. They can be used for furniture PVC projects, home crafts, DIY projects, garden structures, medical implementations, training, and fitness equipment, as PVC tees are often required for almost any PVC build, plan or project. With their affordability and ease of use, FORMUFIT PVC Tees are popular for project makers and crafters and are great for creating a structure like a playhouse or a PVC pool chair.
Design
Like all FORMUFIT Products, PVC Tees are USA-made using structural quality PVC resins, specially engineered to withstand UV degradation and resist impacts, torque, and stress. Furniture PVC tees are safe, non-toxic, and free of harmful chemicals such as heavy metals, dioxins, and phthalates. This attention to detail and protection make them entirely safe for building projects for kids and pets. Tee PVC furniture grade fittings have no markings, writing, embossments, barcodes, or labels and instead have a smooth, glossy surface and tapered ends that provide a professional, uniform finish. FORMUFIT Standard Tees are completely flow-through, thanks to their hollow interiors and flow through design. FORMUFIT PVC Tees have a far cleaner appearance than regular plumbing fittings. They are bright white with no printing or bar codes.
Engineered Materials
FORMUFIT PVC Tees are manufactured utilizing professional furniture PVC blends that incorporate industrial grade UV inhibitors. They are developed to withstand total sun exposure and support full weatherability. FORMUFIT Furniture PVC tees are resistant to impact strengths with nearly 5x the breakage resistance compared to standard plumbing-grade PVC tees and imported PVC tees. Heavy-duty sunlight blockers mean FORMUFIT tees hold their color and integrity longer, even under rugged weather conditions. While they will maintain all standard ASTM pressure ratings, they are not NSF-certified, and therefore builders should not use these Tees for drinking water or potable water applications.
Fitment and Securing
Furniture grade PVC tees are built to ASTM Schedule 40 specifications and are external-fit and therefore compatible with other piping schedules, such as Schedule 80 and thinwall PVC pipe. Installing them is just as easy as all other FORMUFIT products; they can be inserted via the simple, press-to-fit method or permanently connected by solvent welding together using clear PVC cement.