Category:
Caster Fitting PVC Insert
2 products
FORMUFIT Caster Fitting Inserts are specialty fitting inserts that let you make PVC structures transportable. Caster Fitting Inserts fit inside a PVC fitting and can accept off-the-shelf post casters to create movable or mobile PVC pipe structures. Easily insert or attach a threaded caster into the Caster Fitting Insert, then push the Caster Fitting Insert inside the socket of a 1-1/4" fitting. All PVC Caster Inserts accept FORMUFIT Swivel Casters, which easily snap into place out of the box.
FORMUFIT PVC Caster Fitting Inserts are available to buy online in the 1-1/4" PVC Size only and will exclusively fit 1-1/4" Schedule 40 PVC fittings. For sizing information, please see our PVC 101 page.
Product Manual
You can view the generalized product instructions for this category by clicking the Download PDF button. Individual instructions are on each product detail page.
Download PDF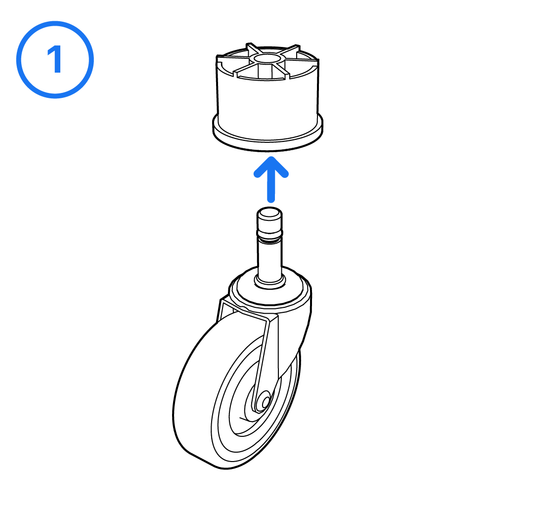 Additional Information
Caster PVC Fitting Insert - Additional Information
Basic Description
FORMUFIT Internal Caster Fitting Inserts slip inside the end of PVC fitting socket and allow the use of off-the-shelf threaded or post casters to create portable or mobile PVC pipe applications.
Use
Caster Fitting Inserts are typically used in PVC vehicles, furnishings, and other structural frameworks when wheels need to go where there is a PVC fitting. The caster inserts slip inside 1-1/4" PVC fittings directly, with a tight, secure fit. Once inserted, Caster Inserts are 95% hidden inside the fitting for a practically invisible look. You can use FORMUFIT Caster Fitting Inserts with standard 7/16" post casters but can also work with off-the-shelf threaded casters with a stem diameter of 7/16" (11mm) or smaller. You can attach the threaded caster with a washer and nut as it passes through the fitting-facing side of the caster insert.
Design
Caster Inserts are currently only available in the 1-1/4" PVC pipe size and will only fit standard 1-1/4" PVC fittings. FORMUFIT fitting will accept the full socket depth of the Caster Insert, but other non-furniture-grade fittings may not.
Engineered Materials
All FORMUFIT Caster Fitting Inserts are ultraviolet light-resistant due to the integrated UV inhibitors within the engineered PVC resin. In addition, all caster fitting inserts are impact-proof and free of heavy metals, such as lead, cadmium, or mercury. Since they are made from ultra-strong, impact-proof PVC material, they will last for years when used for conveyor rollers or warehouse fixtures, even in direct sunlight.
Fitment and Securing
PVC Cement or tools are not required, as Caster Fitting Inserts only need to be tapped into place via press-to-fit as tolerances are incredibly tight.