Category:
90 Degree PVC Elbow
57 products
Place perfect 90-degree bends and angles in your PVC projects and applications.
FORMUFIT Furniture Grade PVC 90-Degree Elbow fittings allow for perfect 90-degree angles in PVC pipe structures. 90-Degree PVC Elbow pipe fittings add a perfect right angle to your PVC project and offer two sockets in a perpendicular configuration. 90 Degree PVC Connectors are a cornerstone of any PVC project and are required for most of our PVC plans and applications.
Available Sizes
FORMUFIT PVC Ells are available to buy online in the 1/2", 3/4", 1", 1-1/4", 1-1/2" and 2" PVC Sizes and fit standard Schedule 40 PVC size pipe. For sizing information, please see our PVC 101 page.
Product Manual
You can view the generalized product instructions for this category by clicking the Download PDF button. Individual instructions are on each product detail page.
Download PDF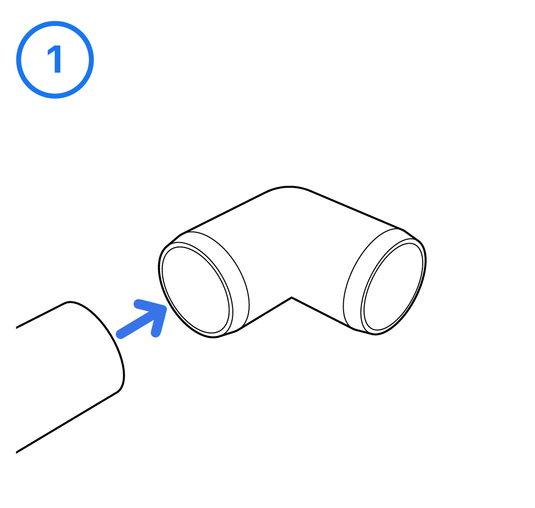 Additional Information
PVC Standard 90 Degree Elbows
Basic Description
FORMUFIT 90 Degree elbow PVC furniture fittings can connect two lengths of Schedule 40 PVC pipe with a 90° turn for structural PVC applications. Use PVC 90s to add edges, corners, enclosures, doors, or walls to any project. Furniture Grade PVC 90-Degree Elbows are colloquially known as PVC Ells or simply L's due to their L-shape and are a cornerstone of any PVC project design.
Design
Furniture Grade Ells have a beveled and chamfered edge, solid color throughout, and no embossments, printing, or marks. PVC Furniture grade elbows have two identical sockets on the same plane and a 90-degree bend. These ell fittings are the premier option versus regular plumbing grade PVC ells because they do not have bar codes, stamps, embossments, or other manufacturer markings. Instead, they feature a clean, smooth, and glossy surface finish for a neat, finished, and professional look. In addition, all 90 Degree PVC Furniture Grade fittings are non-toxic and certified free of phthalates, dioxins, and heavy metals, such as lead and cadmium.
Engineered Materials
FORMUFIT injection molds Furniture 90 Degree Elbows with the highest grade of materials, resins, and compounds to provide premier impact and breakage resistance. This makes FORMUFIT Furniture PVC fittings are heavy-duty and industrial-strength quality, with UV inhibitors to keep sunlight damage at bay. The included UV inhibitor significantly reduces the devastating effects of sunlight on PVC that discolor or embrittle plumbing-grade PVC or low-quality furniture PVC knockoffs. As a result, our furniture fittings are guaranteed to last, used indoors, outdoors, and through harsh weather for decades to come.
Fitment and Securing
FORMUFIT 90 Degree Ell furniture fittings can be joined to PVC pipe by either press-to-fit, solvent welding with PVC cement, or the set-screw method to take it apart again if needed. FORMUFIT 90 Degree PVC Elbows are compatible with standard PVC pipes of the same nominal size.
Use left/right arrows to navigate the slideshow or swipe left/right if using a mobile device