Category:
PVC Cross
58 products
Build cross-member support in PVC projects for pipe all on the same plane.
FORMUFIT Structural PVC Cross fittings provide cross-member support in PVC projects and are required for pipe grids or outer frame structures. The PVC 4-Way Cross offers four sockets in a cross configuration, all at 90-degree angles to each other. As a result, there are no perpendicular sockets to get in the way, and they make an excellent, flat-plane connection. Crosses are essential when constructing PVC projects, such as PVC shelf units, greenhouses, craft projects, or cross member support in PVC applications for cube or rectangular shapes.
Available Sizes
FORMUFIT PVC Cross Fittings are available to buy online in the 1/2", 3/4", 1", 1-1/4", 1-1/2" and 2" PVC Sizes and fit standard Schedule 40 PVC size pipe. For sizing information, please see our PVC 101 page.
Product Manual
You can view the generalized product instructions for this category by clicking the Download PDF button. Individual instructions are on each product detail page.
Download PDF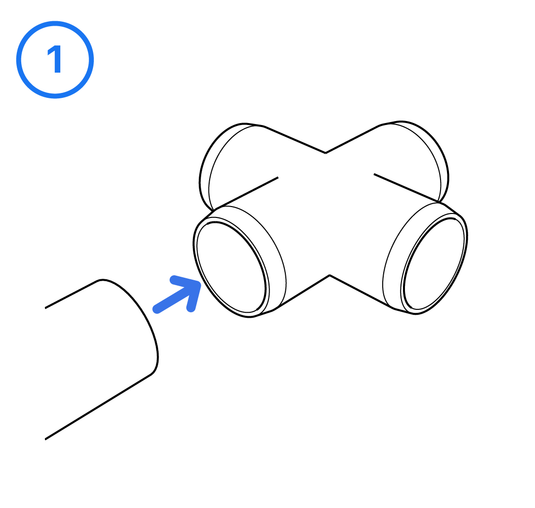 Additional Information
Standard PVC Cross Fittings
Basic Description
Furniture Grade PVC Crosses are also known as 'flat 4-way fittings' and 'cross connectors' and are critical in almost every build in some form or another. Standard Cross fittings have four (4) sockets positioned at 90° of each other along a flat, shared, and single plane. They are typically used to join four pieces of PVC pipe and have long been used in plumbing applications, and are just as crucial in structural PVC designs.
Use
You can use PVC Furniture crosses to build or add interior support to walls, windows, ceilings, door structures in greenhouses, and other PVC pipe structures.
Design
FORMUFIT Furniture Grade Standard PVC Crosses come without any pipe markings, embossments, or labels, unlike plumbing-grade versions. Additionally, FORMUFIT crosses are more resistant to cracking and sunlight, UV discoloration, and deterioration than their plumbing-grade counterparts. Additionally, FORMUFIT Structural furniture grade PVC cross fittings come with tapered ends and a glossy surface finish for a spotless look designed to be visually attractive. Furniture grade parts are designed to look great and have the same rugged durability as all other furniture grade PVC parts from FORMUFIT.
Engineered Materials
They are made in the USA using industry-leading resins and compounds which contain UV-resistant properties to resist sunlight damage and are extraordinarily robust against weathering. In addition, FORMUFIT PVC Crosses are furniture-grade fittings and non-toxic. They have no heavy metals such as lead, do not utilize phthalates in their manufacture, and are safe for medical applications.
Fitment and Securing
PVC Crosses can be incorporated into your project by the standard press-to-fit method or by gluing them in place using clear PVC cement, available at any hardware store or home center. They are designed to follow ASTM Schedule 40 pipe attributes, but you can use them with Schedule 40, 80, or thinwall PVC Pipes.
Use left/right arrows to navigate the slideshow or swipe left/right if using a mobile device