Category:
4-Way PVC Fitting
5 products
Connect four PVC pipe segments on three planes for tiered pipe structures.
FORMUFIT 4-Way PVC Fittings provides multi-angle support along edges in PVC Pipe applications where four (4) sections of PVC pipes should connect with a single pipe joint. These fittings connect pipes on both the horizontal and vertical planes. The 4-Way PVC connector will fit over PVC pipe and taper down for a professional appearance.
Available Sizes
FORMUFIT PVC 4-Way Tees are available to buy online in the 1/2", 3/4", 1", 1-1/4" and 1-1/2" PVC Sizes and fit standard Schedule 40 PVC size pipe. For sizing information, please see our PVC 101 page.
Product Manual
You can view the generalized product instructions for this category by clicking the Download PDF button. Individual instructions are on each product detail page.
Download PDF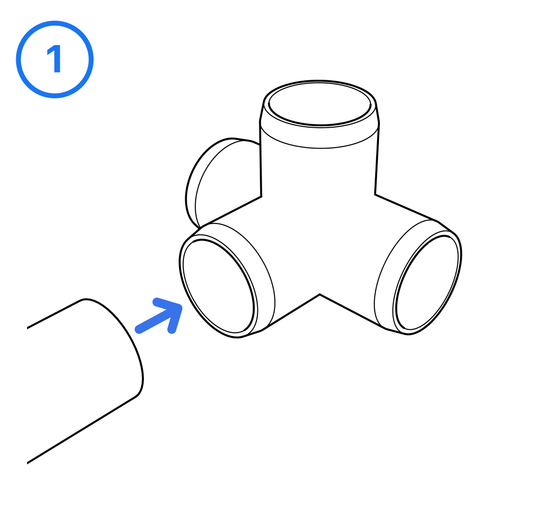 Additional Information
PVC 4-Way Side Outlet Tees
Basic Description
4-Way PVC fittings, also known as side-outlet tees, look precisely like a standard plumbing-grade PVC tee with three sockets at 90° angles along the same plane; however, they have an additional fourth socket that reaches out of from the top. This extra socket allows a supplementary connection plane to create more complex structures. With this extra port, you can connect up to four different pipe lengths at a central point to add dimension to your structure and design.