Staying safe and healthy is an important factor in the current pandemic environment. Not all gyms and fitness centers are completely open, or require you to set up reservations and/or have limitations on the number of people that can be in the facility at once.
This doesn't mean that you can't keep busy or fit on your own.  We've compiled four (4) PVC projects that you can build at home to exercise, practice fitness and have a little fun. Each of these projects have a downloadable plan available in our PVC Plans Library and most are fairly simple to build. 
Parallettes
Parallettes are smaller versions of the the parallel bars used in gymnastics.  They simulate the use of full-size parallel bars for gymnasts, but can be  beneficial to those outside gymnastics too. While they are like push-up bars or dips bars that you see in the gym, parallettes are normally lower to the ground and are larger in size.
Parallette exercises get you support your body weight on your hands and maintain these positions over a period of time. They're excellent for building up core muscle and leg strength too. These exercises are ideal for gaining muscle mass, whether you're starting out using the techniques or are ready to progress to a higher parallette skill set.
Parallette training has grown in popularity as fitness fans look for ways to achieve their aims and the sculpt their body. The physique of gymnasts, simple beginner exercises, and low cost have all contributed to the rise of parallette exercises. Even the CrossFit fitness world, incorporates aspects of parallettes.
Resources
Title: Parrallette Journey Pt 1 
Description: Watch Stephen Tongue start his Parrallette Journey.
Link to PVC Plan:  PVC Parallettes Plan
Push Up Bars
When you're talking about exercise and mention "push-ups," there's a good chance you'll get eye rolls or a comment such "I HATE PUSH UPS!" Let's face it, they aren't the most exciting or easiest exercise in the world. But they can be with the right equipment and technique.
The traditional push-up position has you put your hands flat on the floor and focuses your weight on the joints and tendons in your wrists. To reduce strain, some people do push-ups on closed fists, which allows them to keep their wrists straight. This is fine on carpet or lawn, but is uncomfortable on a hard surface. Using push-up bars is like the exercise on your fists without beating up your knuckles.
Without push-up bars, the majority of your upper-body weight moves the muscles in your upper arms. Gripping push-up bars with your hands incorporates your forearms' muscles. As a result, push-ups become easier because you are involving more muscles to lift and lower your body weight through the range of motion.
Resources
Title: Push Up Bar Exercises
Description:  A concise list of push-up bar exercises to do at home.
Link to PVC Plan:  PVC Push-Up Bar Handles
Golf Cage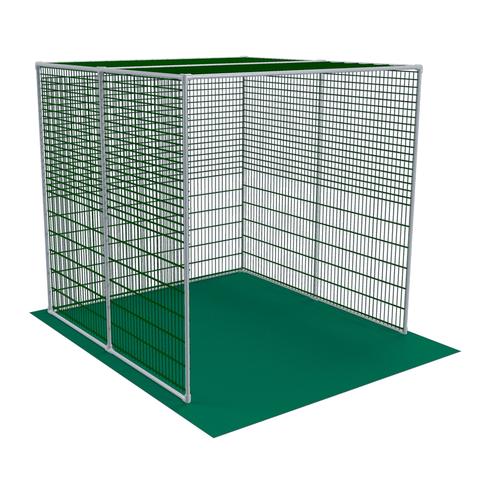 Golf is a game enjoyed by any age and any different levels of experience. Whether you just want to drive some balls or you've been playing for decades, having a golf cage is a great way to improve your game and get some exercise. A golf cage is simply a net and frame that you can set up anywhere and hit golf balls into. To use it, you'll need a golf mat, golf clubs and balls and you're ready to do some practice drills.
Golf cages are great to practice your swing when you can't make it out to the driving range due to quarantine or course closures. A good golf cage is also a great way to practice in your backyard without worrying about anyone else watching you or critiquing your swing.
Resources
Title: Driving Range Tips and Drills for Beginners
Description:  Perfect for beginners to learn how to hit a golf ball.
Link to PVC Plan:  PVC Golf Cage Plan
Ballet Barre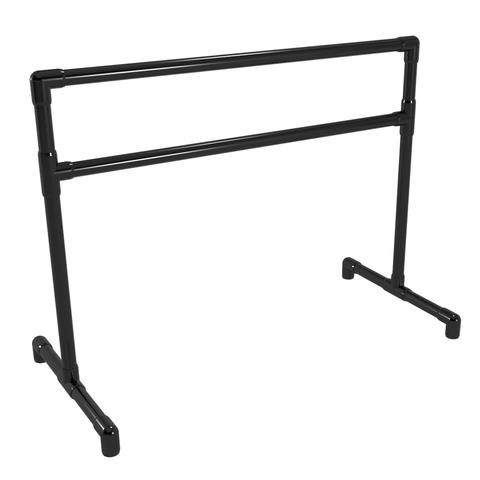 It may look like ballet, but it's not.  Barre fitness classes are ballet inspired, incorporating a mix of ballet barre and pilates work with plies and kicks in the workout. A Barre class is a targeted workout in which you'll use the bar with exercise equipment such as small hand weights and balls.  These techniques will help to to slim and stretch your entire body.   
You don't need any ballet dance experience to be comfortable doing barre exercises.  The ballet moves tone the entire body, improve posture and increase flexibility.
Resources
Title: Ballet barre workout techniques with Sharrell Brown, M.S., ACSM-HFS
Description:  Demonstration proper techniques for ballet barre workouts.
Link to PVC Plan:  PVC Ballet Barre Plans