1-1/4" x 4" PipeClamp PVC Material Tube Clamp
The FORMUFIT 1-1/4" PipeClamp™ is a 4" long, high strength tube clamp that lets you to secure netting, canvas, tarps or other types of fabrics to pipe structures. PipeClamps snap in place over standard PVC or galvanized steel pipe.
Product Features
Colors and sizes that are grayed out are temporarily out of stock.
With PipeClamps you can attach tarps or netting to metal or PVC pipe. The solid PVC clamps are made from the same Furniture Grade PVC materials as all our PVC pipe and fittings.
PipeClamps are also compatible with other pipe and tubing products:
| | |
| --- | --- |
| 1-1/4" Size PVC Pipe | 1-1/4" Size PVC Conduit |
| 1-1/4" Size ABS Pipe | 1-1/4" Size Black Metal Pipe |
| 1-1/4" Size Galvanized Pipe | 1-1/2" Size EMT Conduit |
| 1-1/2" Size Acrylic Tube | 1-1/2" Size Wood Dowel |
4" Lengths, sold individually.
Attach film to greenhouses, cold frames and garden covers
Connect signage to pipe frames
Secure tarps and canvas to pipe shelters
Netting for bird and rodent protection
Fasten nylon bedding materials for dog and cat beds
Attach cloth and quilts to quilting frames
---
What pipe will this fit?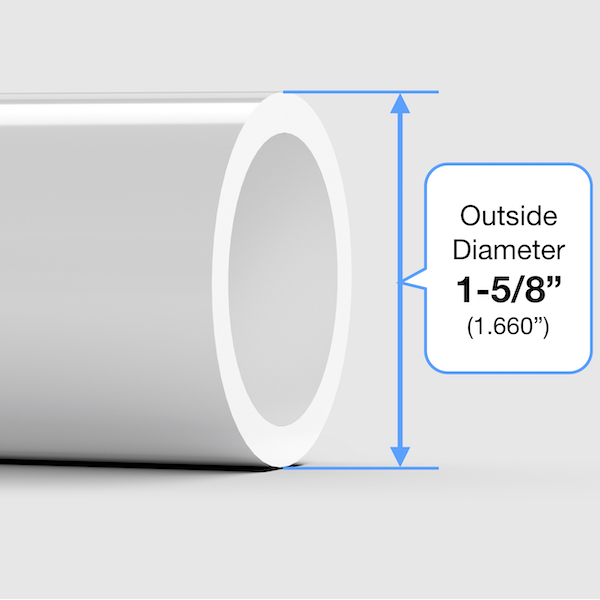 This product will fit 1-1/4" Size PVC pipe, which has an outside diameter of 1.660" (1-5/8") and an inside diameter of approximately 1-1/4". See our PVC 101 section for more info.

Not compatible with CPVC or Copper Tube Size (CTS) pipe.
Product Specifications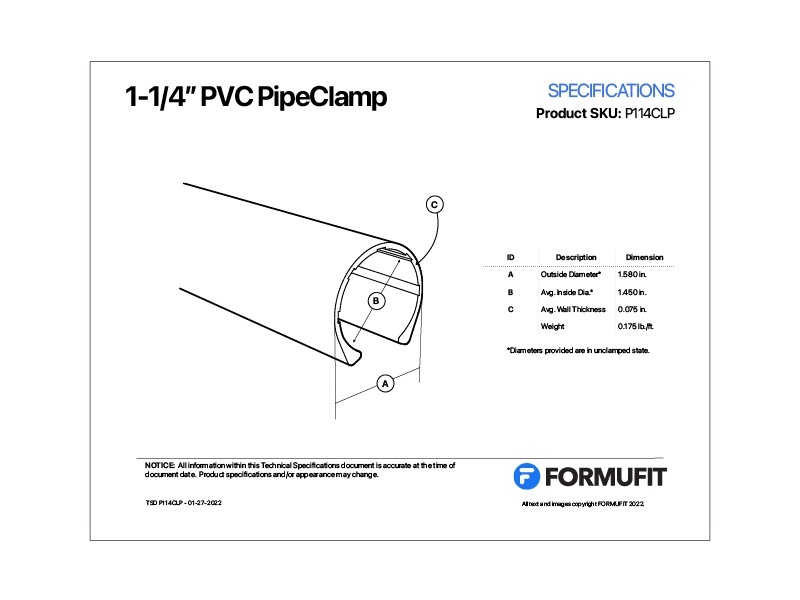 Download the Technical Specifications document for this product to view physical dimensions and additional details.
Download PDF
Product Instructions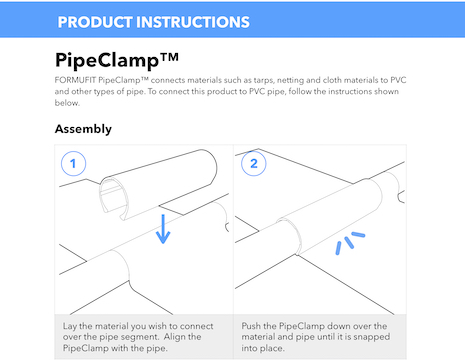 View the product instructions, which include basic visual assembly, securing options and product use.
Download PDF