1/2" 4-Way PVC Tee Fitting - Furniture Grade
FORMUFIT 1/2 in. 4-Way PVC Tee Fittings are an easy solution for offset or tiered structures made from PVC pipe, giving your projects the additional dimension it needs. This structural Furniture Grade PVC 4-Way fitting connects 1/2 in. Size PVC pipe at four points on multiple planes for multi-tiered connections. There are three sockets on the same plane, with a fourth to allow perpendicular connections, delivering capabilities you wont find with plumbing-grade fitting options.
Product Features
Colors and sizes that are grayed out are temporarily out of stock.
Fits externally over 1/2" Size PVC pipe, which has an outside diameter of 13/16" (0.840").
Connect four segments of PVC pipe to create multi-layered, tiered levels using only a single fitting.
UV resistant PVC material resists sunlight and fluorescent lighting degradation. Lasts for years in direct sunlight without yellowing, discoloration or cracking.
Infused with non-toxic impact modifiers in the resin for use in projects that require durability and repeated abuse.
All ports are at 90 degrees to each other, for perfect right angle connections with PVC pipe
Extra deep sockets allow further pipe insertion into the fitting for a more secured, stronger hold.
Tapered ends on each socket end to allow a smooth transition from the pipe to the fitting. Won't snag clothing or pet hair like plumbing grade PVC fittings.
---
What pipe will this fit?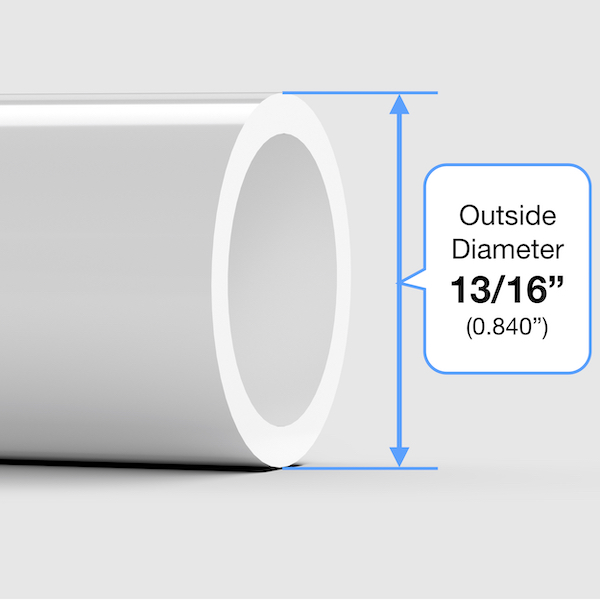 This product will fit 1/2" Size PVC pipe, which has an outside diameter of 0.840" (13/16") and an inside diameter of approximately 1/2". See our PVC 101 section for more info.

 Not compatible with CPVC or Copper Tube Size (CTS) pipe.
Product Specifications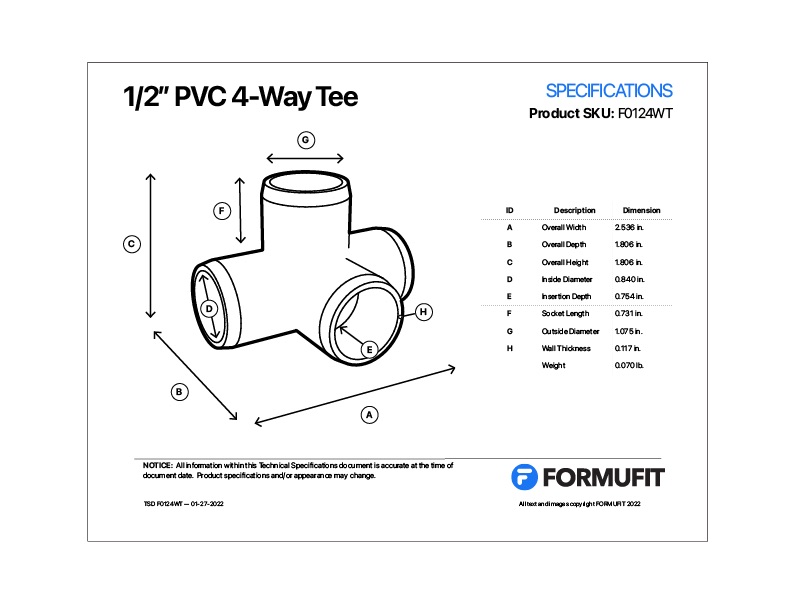 Download the Technical Specifications document for this product to view physical dimensions and additional details.
Download PDF
Product Instructions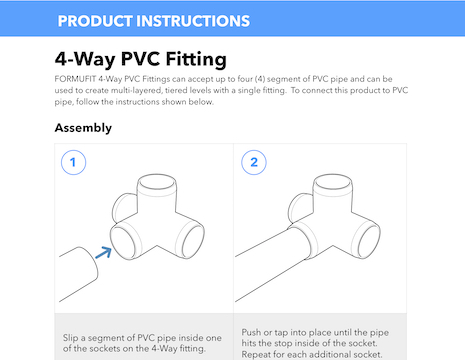 View the product instructions, which include basic visual assembly, securing options and product use.
Download PDF