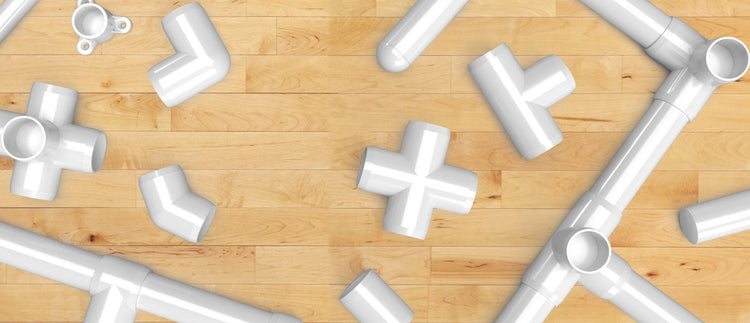 Tinker Toys for Grown-Ups.

FORMUFIT Furniture Grade PVC offers a huge catalog of easy-to-work-with products to help you realize the full potential of your PVC project.
Better Connections
FORMUFIT Furniture Grade PVC fittings provide more configurations than standard off-the-shelf plumbing alternatives.3-Way,4-Way and 5-Way PVC fittings give you more connection points while using fewer fittings.
Specialty Connectors
UV Resistant
Furniture Grade PVC by FORMUFIT has a non-toxic additive introduced during manufacturing that inhibits the impact of sunlight and other ultraviolet sources on the molecular structure of the PVC. Without this, the PVC would yellow, crack, become brittle and break.
Good Looks
FORMUFIT Furniture Grade PVC has a beautiful glossy surface, ideal for display items such as furniture, shelves, pool products, and so much more. It delivers when appearance is important.

All fitting sockets have a gradual taper down to the PVC pipe so that the final product looks finished. This taper also helps keep your project hands-on friendly, as there are no sharp or blunt edges.
Impact Proof
FORMUFIT Furniture Grade PVC is designed to withstand impacts, and drops from a substantial height and won't suffer any cracks or breakage. It's able to withstand additional load (weight) applied to both fittings and pipe over standard plumbing products.

You can view our PVC Pipe Load Guide for more information on estimating your PVC pipe's weight load:
PVC Pipe Load Guide
PVC Pipe Accessories
Furniture Grade PVC doesn't mean just fittings and pipe. FORMUFIT provides plenty of accessories available to help make your project function and perform better. Specialty pipe caps of all kinds, as well as unique adapters, make it easy to finish your project the right way.
View PVC Acccessories
Clear UV PVC Pipe and Fittings
FORMUFIT now offers our unique connectors and pipe in UV-resistant clear PVC formulation. FORMUFIT Clear UV is a less-expensive clear option that is a stronger and more economical solution than plumbing-grade clear PVC solutions.
View More Info on Clear PVC
PVC in Color
Add variety, whimsy, and full customization to your project with beautiful glossy FORMUFIT Furniture Grade Color PVC products. All color products have the same UV resistance and impact resistance as FORMUFIT white PVC products but come in a variety of bold colors.
View More Info on Color PVC
Fully Compatible
FORMUFIT Furniture Grade PVC pipe and fittings are dimensionally similar to plumbing-grade PVC pipe*, available in home centers and hardware stores.

You can use FORMUFIT pipe fittings with standard off-the-shelf PVC pipe to build your project or use FORMUFIT pvc pipe with plumbing fittings to accommodate your budget.
See our PVC 101 Tutorial