Large PipeRivet Fastener Kit (20-Pack)
FORMUFIT PipeRivet Fastener Kit is a handy, easy to use kit that is perfect for attaching PVC Pipe and fittings together without the need for PVC cement or screws. The PipeRivet fasteners are made from durable nylon and are easily inserted by drilling a hole between pipe and fitting and tapping the PipeRivet into place.
This kit contains 20 PipeRivet fasteners and a 1/4" hex shank drill bit suitable for large diameter pipe in the 1-1/4" to 2" size.
Colors and sizes that are grayed out are temporarily out of stock.
Product Features
Use to connect most PVC Pipe and fittings together
Available in white, black and clear colors
Nylon construction for durability
Easily removed to reconstruct, reuse or change pipe and fitting configurations
Works with 1-1/4" to 2" Size PVC Pipe and fittings
---
Product Specifications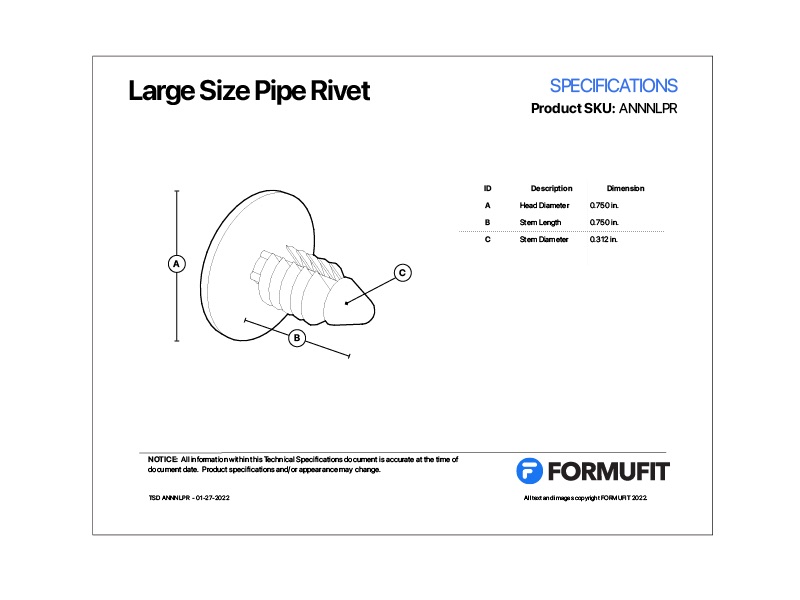 Download the Technical Specifications document for this product to view physical dimensions and additional details.
Download PDF
Product Instructions
View the product instructions, which include basic visual assembly, securing options and product use.
Download PDF